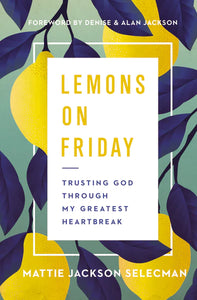 High Cotton of Clinton
Lemons On Friday
Regular price
$19.99
$0.00
Unit price
per
When your life is suddenly full of questions, how do you move forward in faith?
After being married for less than a year, country music legend Alan Jackson's daughter Mattie was faced with navigating a future that didn't include her young husband and the life they dreamed of together.
Ben Selecman passed away twelve days after suffering a traumatic brain injury--and three weeks before celebrating his first anniversary with his wife. Suddenly, twenty-eight-year-old Mattie had to find a way to reconcile herself with a good God, even when He did not give her the healing miracle she prayed for.
In Lemons on Friday, Mattie Jackson Selecman invites you to walk with her during the first years of grief following Ben's tragic death as she grapples with her loss and leans on a steadfast God.
Mattie wrestles with questions that we've all faced in the midst of grief and loss, including:
How did I get here?
Will this always hurt?
Who am I now?
Where can I find the strength to keep going?
Lemons on Friday will give you the encouragement you need to see life and love in a brand new light, no matter what you're facing.
---
Share this Product
---